Custom Exhaust- Boise Muffler Shop
Boise Muffler Shop is your custom exhaust shop headquarters in Boise, Idaho. Boise Muffler specializes in aftermarket and performance exhaust systems and will make your muscle car, truck or SUV sound and look amazing. Not to mention we can boost your engine's performance and efficiency.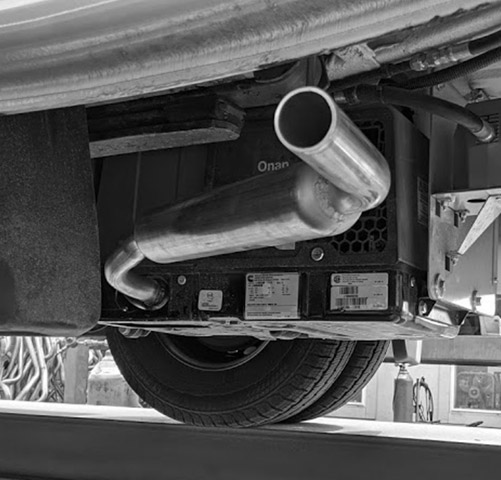 What are the Benefits of a Custom Exhaust System
Better Performance
Better Sounding Vehicle
Better Looking and Detailed Finish
Lets discuss these benfits in detail.

Better
Performance
Tuned Exhaust Headers, larger diameter piping, and less restrictive mufflers all contribute to better performance. By managing the amount of back pressure on the exhaust valve in comparison to the intake pressure, you can more efficiently empty the cylinder and increase the amount of fuel/air mixture that is injected.

Better Sounding
Vehicle
Nothing is worse than seeing a car, truck or SUV that looks like a lion, but purrs like a pussycat. OK, maybe there is one thing… A Dodge Challenger with a V6. If you're gonna buy a muscle car, put some muscle in it and then stop by Boise Muffler and let us add the finishing touches. We'll give your ride a unique sound that tells people what is actually under the hood!

Better
Looking
Custom exhaust adds a crisp look to your car. Stainless Steel pipes and clean lines show how much you love your ride and how you pay attention to the fine details.

Detailed
Finish
Whether your presenting at a car show, cruising main or out on a date, you're going to attract the right kind of attention. All it takes is a few aftermarket parts and modifications to make your car look more sporty, more aggressive and sharp as a tack.
Boise's Best Custom Exhaust Fabricators
Sean Page and the crew at Boise Muffler Shop are the best muffler shop in Boise because they use top quality exhaust components in their high-performance exhaust systems. Don't forget that Boise Muffler Shop has a sister company right down the street - Boise Muffler Auto Repair. The advantage is that when the need arises for advanced diagnostics or engine work, they've got you covered.
Boise Muffler Shops design and fabricate custom exhaust systems using the best in aftermarket exhaust components and help your vehicle achieve peak performance, classic finishes and rumbling sound. Call us today or fill out our contact form.